LOXAM, the leading truck rental company in France, wanted to extend its range by offering green vehicles in it LoxGreen fleet. To do so, the company partnered with the electric utility vehicle pionneer Goupil. Pour cela, le groupe a fait appel au pionnier du véhicule utilitaire  électrique Goupil. Découvrez comment Goupil et Blanc Tailleur ont collaboré sur le design de cet engin novateur.
Loxam and Goupil: common environmental goals
Loxam, the commercial vehicles rental leader in France and in Europe, wanted to extend its rental offer to electric vehicles in order to reduce its carbon footprint and that of its customers. At the same time, Goupil, the pioneer of electric utility vehicles traditionally used by municipalities for green spaces and road maintenance, wanted to expand its market by offering a utility vehicle more in line with road vehicles' standards. The idea behind this is to help the utility fleets transition to electric powered vehicles.
These common goals were found in the G6, Goupil's new electric utility vehicle. Rather than turning to big names of the car industry, Loxam chose the G6 for its LoxGreen fleet. For this occasion, Goupil customized for the rental operator a G6 with a remote-controlled tilting platform of more than 4 m².
Le partenariat avec Loxam est éminemment porteur pour Goupil. En effet, il va permettre aux entrepreneurs de travaux publics, artisans et paysagistes de découvrir le G6 : « Cela faisait sens de proposer un véhicule à ces personnes par le biais de la location, afin de créer par la suite des besoins d'acquisition de ces châssis », précise Philippe Hugue, directeur commercial et marketing de Goupil. Cette évolution ouvre de nouvelles perspectives de marché pour Goupil, qui s'attend à une croissance forte en 2021.
The partnership with Loxam is eminently promising for Goupil. It will indeed allow public works contractors, craftsmen and landscapers to discover the G6: « It made sense to offer a vehicle to these people through rental, in order to subsequently create the acquisition need for these vehicles », says Philippe Hugue, sales and marketing director of Goupil. This development opens up new market prospects for Goupil, which expects strong growth in 2021.
The Goupil G6, the electric utility vehicle that is a must have
Until now, the Goupil was mostly used by cities and leisure parks but it now start to play in the big league thanks to the G6. It is no more the small complementary vehicle : the G6 is a real utility vehicle that allows customers to envision their professional fleet transitioning to electric vehicles. « The challenge is to seek for electric conversion, adds Philippe Hugue. The market is huge, so our strategy is to get new customers rather than competing with the big electric vehicle manufacturers. »
Entirely manufactured in France and launched in 2020, the Goupil G6 visually resembles a « real » utility truck, with its 3 real seats and its cabin floor architecture. For the first time at Goupil, this utility vehicle has a front-wheel drive, which gives it flexibility and maneuverability. This choice made it possible to make a comfortable, safe and robust vehicle.
With a volume of 9 m³and 1150 kg of payload, it is an ideal utility truck for city delivery, waste collection or maintenance of green spaces. Its autonomy close to 150 km and its maximum speed of 80 km / h also allows it to drive on the secondary network such as the city center (the G6 is road approved). The truck retains the brand's DNA of compact dimensions that allow it to squeeze through narrow streets. Its stop & go starting system and energy recovery brake make it a valuable ally for last-mile players such as delivery men, who alternate starts and stops over short distances. Adaptable, the G6 is also always ready for service, since its batteries can be recharged on a household outlet in about ten hours (or five hours on a 7 kW terminal).
Above all, the G6, designed with Blanc Tailleur Design R&D, is ergonomic which makes it a real road vehicle: the controls are available from the driving position (raising and lowering the platform, lighting of lights, signaling, etc.) and an LCD screen allows to control the electricity consumption and the various functions. Wider, faster and more autonomous than its predecessors, the G2 and G4, the G6 is an ideal solution for professionals who want to make the transition to electric mobility.
Goupil will also offer converted vans such as food-trucks, bucket vehicles or interior equipments for to craft businesses.
Blanc Tailleur Design R&D designs Goupil's new identity
Goupil took advantage of the creation of the G6 to define the branding of the complete range (G2, G4 and G6). For Philippe Hugue, "it is important to have continuity between brand design and product design". Continuing a long-standing collaboration, Goupil once again asked Blanc Tailleur to redefine the design language of the entire range of its vehicles and their new signature which translates a more modern, more electric dimension.
« Blanc Tailleur knows our DNA and has been able to transcribe it. »
Blanc Tailleur worked very early in the project with Goupil's design office and marketing department in order to develop a global redesign plan. The idea was to give the vehicles in the range a true modern visual signature which highlights the brand's innovative technology. The blue plastron at the the front of the van now strongly identifies Goupil and appears not only on the G6, but also on its brothers the G2 and G4.
To do this, the Blanc Tailleur teams have set up a collaborative method with Goupil to study the style of the vehicles and the brand's DNA. Thanks to cost-objective design, functional prototypes are produced within Blanc Tailleur's integrated FabLab.
The challenge was to make people understand though the vehicle's design that it was an electric vehicle and the challenge was brilliantly met : « The modernization and standardization of the range with this new visual identity of our vehicles is really the result of a successful collaboration with Blanc Tailleur », according to Philippe Hugue.
New dashboard for a new human-machine interface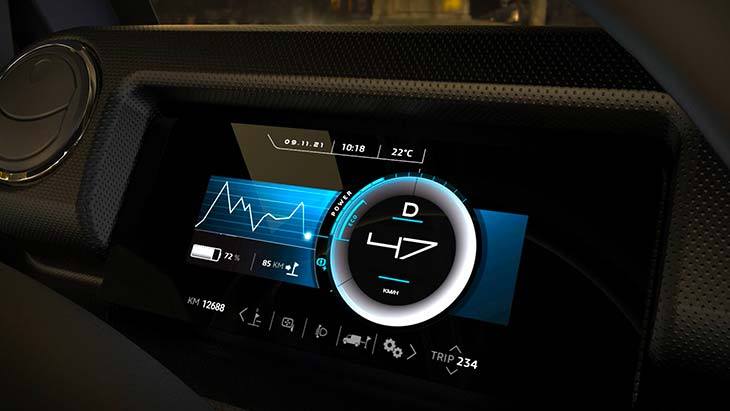 Blanc Tailleur also worked on the human-machine interface of the G6's on-board computer. This color LCD screen provides access to all of the vehicle's functions. An intuitive interface secures the use of the vehicle and enhances the user experience. To do this, Blanc Tailleur analyzed the needs and carried out benchmarking before giving way to creativity to create a test model. Once validated, this neat graphical interface provides an unprecedented experience for Goupil G6 users, who can thus control all the vehicle's functions from the driving position: adjustment of the electric brake, LED lights or exterior mirrors, monitoring electric consumption…
About Goupil
French manufacturer established in the southwest of France since 1996, Goupil employs 140 people. A pioneer in electric utility vehicles, Goupil designs and manufactures tailor-made solutions. Particularly active in exportations, Goupil works with some forty countries, on all continents. Since 2011, Goupil has been a subsidiary of the Polaris group.